About a month ago, my old AMD pc finally bit the dust. It'd been acting up, & finally refused to turn on. Not 100% sure, but I think the power supply failed, & took the motherboard with it (some of the vents on the power supply looked "smoked" a little, but I didn't see any bulging or leaking caps on it, or the motherboard...it was just time for the old gal to go...
). Thankfully, my hard drives were ok, & after a couple weeks with no desktop, I finally pulled the trigger on a new pc (after trying to replace the power supply in the AMD, & pulling my hair out, of course)...I
cannot
complain about the Gateway pc, it lasted over
6 years
of
daily abuse
from me, & I
definitely
feel I got my $$$'s worth from it...
So far, the new pc is awesome, here's the specs:
Dell Inspiron 3847
Intel i7-4790 @ 3.60GHz
16 GB ram
1 -2tb hdd (os, programs, etc...came in the tower)
1 -1tb hdd (internal, dedicated audio/project drive...bought it extra & slapped it in about 20 mins after I got the computer
)
I also bought a little USB 3.0 hard drive case for about $20, which is just great. I stuck my old 1tb hdd that has all my projects from the old pc in it, plus I've got another 1tb internal (old os drive from the AMD), & the old 1tb external I've had for years is still kickin'...So in total I've got 6tb of drives now (the old external is about 2/3 full, but the other 2 from the AMD are less than 1/4 full, & the 2 hdd's in the tower are brand new)...I'll probably buy another case like this, very handy, & worth the $20...
Very happy with the new pc, & got it for about $200 less than I paid for my AMD 6 years ago,
including
the extra hdd, external case, & an EVGA 450w power supply for the old pc (which didn't fix it, but it's got a 3 year warranty/guarantee so I have a backup for the Dell just in case)...
I've always wondered about the Intel vs. AMD thing, & don't know if it's a fair comparison between the two (AMD Phenom II x4 810 8GB RAM vs. Intel i7-4790 16GB RAM) as the new pc has twice as much RAM (and is able to upgrade to 32GB), but this thing smokes!!!! On a lot of my projects, using the AMD pc, I'd have to freeze/render a lot of tracks, & it would still stutter at 64 samples in the ASIO panel, but with the new pc, I can drop it down to 32 & record in real time, without freezing/rendering
anything
(that's as low as my ASIO setting will go btw). Simply put, I'm
very
,
very
impressed with this thing...
Sad news for Marshall amp lovers too, in order to fund the new pc, I sold my 100w DSL100H head. I still have my old cab though, and wasn't going out without a fight...I ended up selling some music gear I never used, some audio/video gear I never used, scraping/scrounging, & ended up getting this little amp:
And this cab: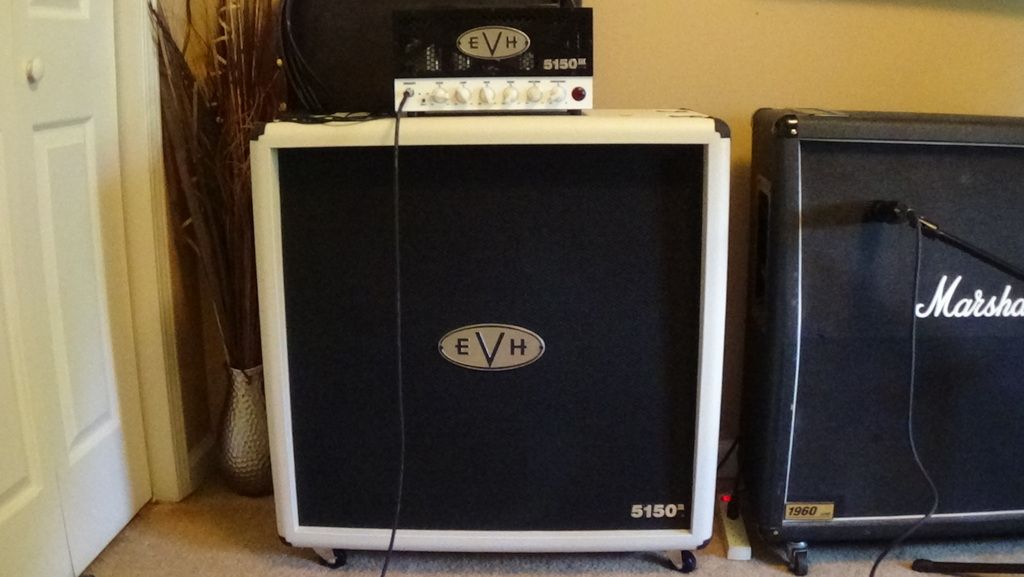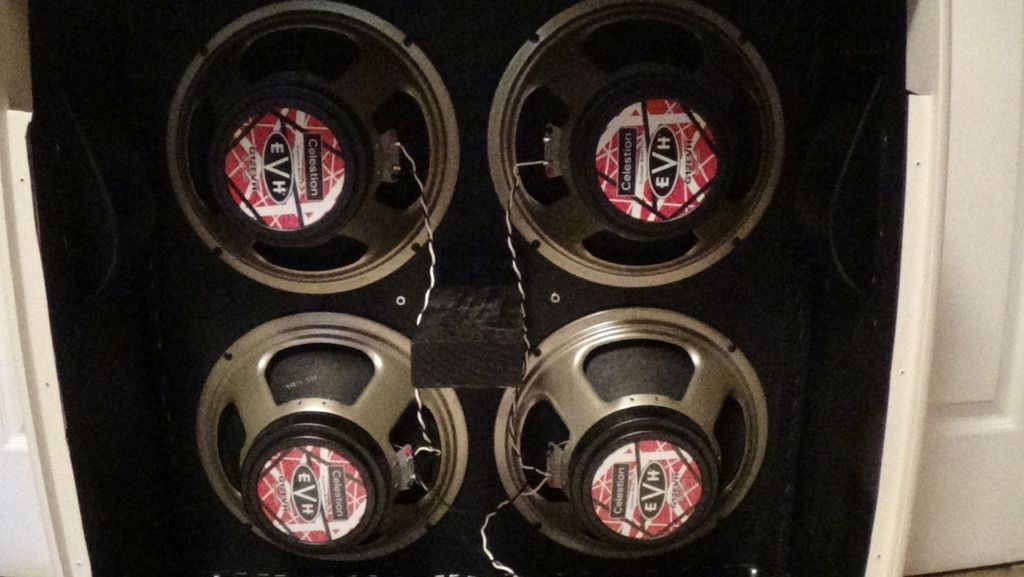 Both the head & cab were used, & I got them for almost half of what they'd been new. There isn't a mark, scuff, scratch anywhere on either of 'em, they're practically new. The speakers in the cab aren't even broken in yet (but they will be), & the amp had a 5 year warranty that I've already transferred over...
For a 15w amp, this little thing screams. Dont let the EVH logo fool you, as I didn't buy it to cop VH tones, & I'm sure they're in there somewhere, but this little thing rips!!! Just to be honest though, as much as I loved my big 50/100w Marshalls, this 15w is a much better fit. With the 20w Greenback speakers, I can get this rig in it's "sweet spot" without vibrating the shelves/pictures off the walls...
Plus, I've still got room to "grow" if I ever decide to get another amp...
And since I'm officially "retired", I bought myself another guitar (can't remember if I posted about it here or not):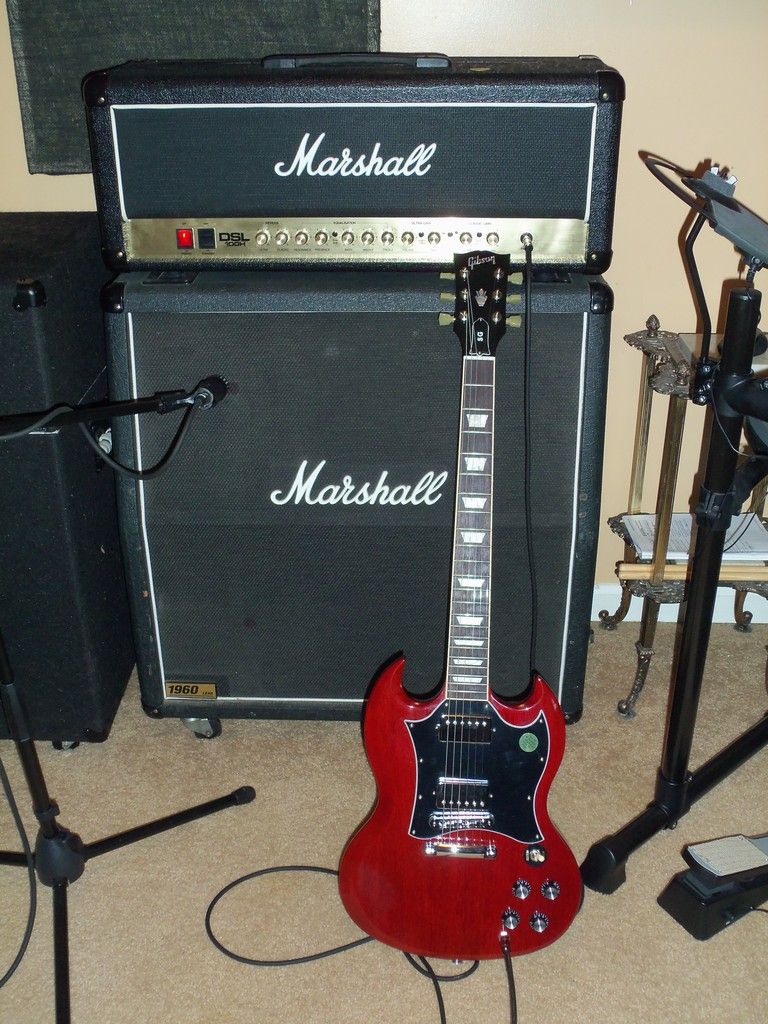 2016 Gibson SG Standard T
490R/498T p'ups, with neck binding (which I didn't think much of at first, but it's really nice, it covers the fret ends on the neck) in heritage cherry...
Along with another mic: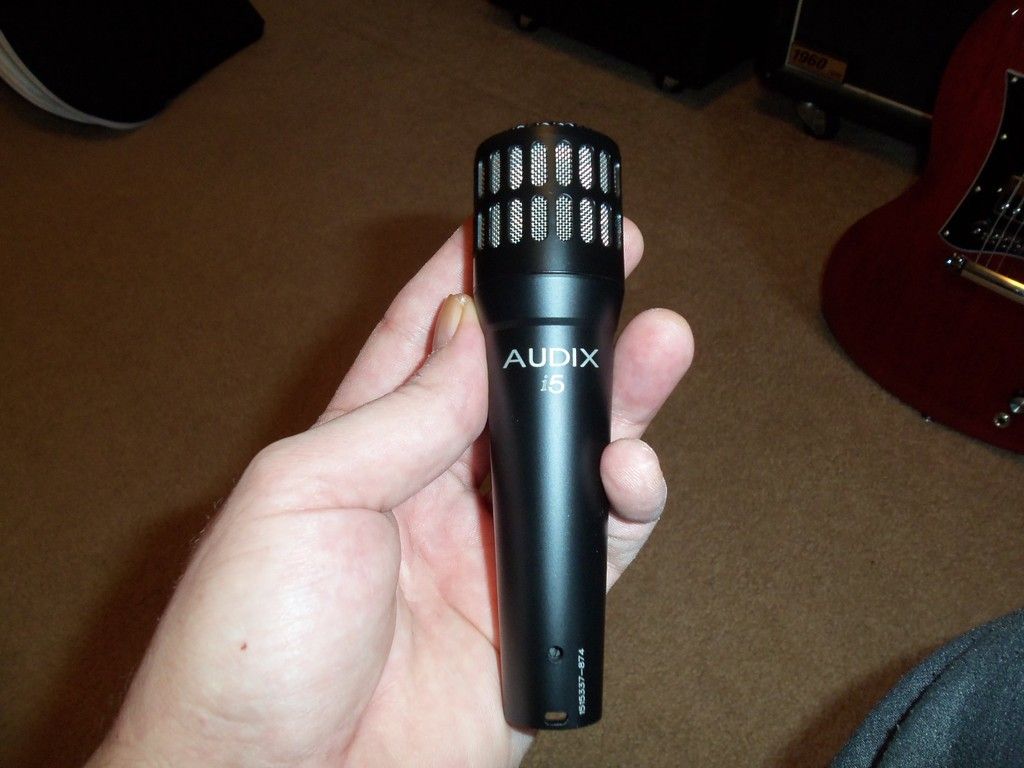 Audix i5
So yes, things have changed for the better for me since the health problems hit back in the fall of last year. And yes, I've dropped a lot of coin on this stuff (some of which I'll be paying for over a few months btw), & probably won't be buying anything else like this for quite a while (holy hell, these are my presents to myself for working 25+ years), I'm pretty happy these days (which I still have good/bad days & probably always will)...
Each day is a blessing just to be here & I for one, will never take that for granted again, as I almost checked out permanently....
Hope all you Zoomers are doing ok, remember to keep your chin up & there's always hope, even for someone like me, who'd lost about everything except hope.
Never, ever give up
because I'm living proof that
you can
make it through some really tough times...